The Coalition of Vancouver Neighbourhoods held a successful candidate town hall meeting on October 15, 2014 at St. James Community Square at West 10th Avenue in Kitsilano. A panel of 11 mayoral and council candidates from various parties answered questions submitted online and at our free public event. There was a packed house of about 390 people.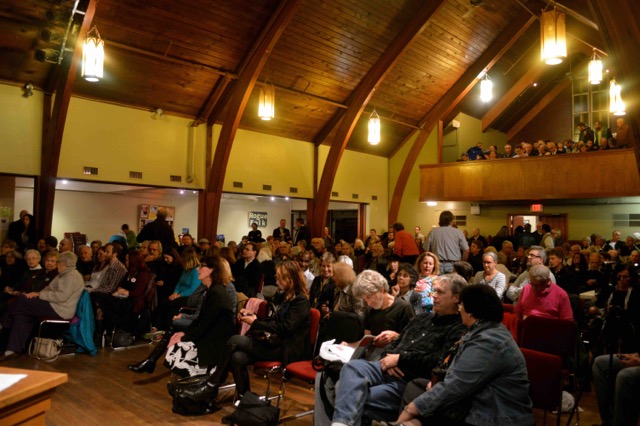 Ten of the eleven candidates and their parties, endorsed the Coalition's Principles and Goals document including: Kirk Lapointe (NPA), Melissa De Genova (NPA), Adrian Carr (Green), Cleta Brown (Green), Nicholas Chernen (Cedar Party), Glen Chernen (Cedar Party), R.J. Aquino (One City), Meena Wong (COPE), Lisa Barrett (COPE), and Mayoral candidate Bob Kasting (Independent). Only Vision Vancouver's Counsellor Andrea Reimer rejected our proposal outright. Although 2 representatives per party were invited, Councillor Reimer was the sole Vision Vancouver attendee and Mayor Gregor Robertson did not join his mayoralty rivals at the town hall meeting.

Many of the Coalition's principles include collaborative planning processes that incorporate aspects of CityPlan and other similar approaches to planning. The Principles and Goals call for broader neighbourhood representation in the planning process, including full neighbourhood surveys, to ensure that everyone's voices are heard, especially those who may not be able to attend Council or neighbourhood association meetings.  A full neighbourhood survey ensures that 100% of residents are canvassed.
The Coalition was pleased to hear several of the candidates mention a return to an updated CityPlan process and this was greeted with overwhelming and supportive applause by local residents.  The ten candidates who endorsed the Coalitions's Principles and Goals, each discussed how it can improve Community Planning and also spoke of a much needed restoration of trust, respect and transparency at City Hall.
In stark contrast, Vision Vancouver and Vision Counsellor Andrea Reimer's lack of support for community-based collaborative planning and unwillingness to endorse the Coalition's Principles and Goals document were both met with highly negative responses from the Coalition and the town hall audience.
Yesterday, Vision Vancouver claimed on their website that NPA Kirk Lapointe's comments at our town hall " are resulting in raising fears from neighbourhood groups that the NPA will throw out long-standing neighbourhood plans, and ignore existing targets for affordable housing"
Not true!
Three Vancouver reporters who attended the event, including Charlie Smith, editor of the Georgia Straight who moderated the evening, Jeff Lee (Vancouver Sun) and Naiobh O'Connor (Courier) also confirmed Vision's statement as "head shaking" and incorrect.
The Coalition will be following up with more details of the evening with the candidates' responses, additional questions that could not be answered given time constraints of the event, as well as commentary of our own. We will upload photos from the evening and video content as well.
We thank Charlie Smith for moderating the evening, all parties and candidate participants, the staff of St. James Hall, and all the local residents who came out to our event. We also thank the videographers and all volunteer Coalition members who contributed to making our event a success
Photos by Elivira Lount & Lawrence Keane